Like millions of women
, you've probably been told that fighting back would just make things worse?
This sounds like a sensible advice...
Except, it is not.
As a matter of fact, research conducted since the 70ies has consistently shown that fighting back is actually the most effective strategy to thwart sexual assaults.
"common sense is often made up of much prejudice"
Numerous studies indicate that women who respond with physical and verbal resistance to the offender's violent attack significantly reduce, indeed, the probability that a rape would be completed.
Data indicate a 90% success rate, says Irène Zeilinger, director of the NGO "Garance"
Still not sold? Keep reading...
Research has also shown that resistance does not significantly increase the risk of serious injury (against popular belief).
Do you know what actually does increase the risk of injury?
According to these studies,
"any tactics that are ambiguous and not forceful such as stalling, cooperating, pleading and screaming from pain or fear"
.
"there's no relationship between verbal and physical resistance and the amount of injury sustained"
Clearly, the eye-opening stories of French journalist
Jackie Parker
or ESPN Exec
Keri Potts
("
How I Escaped a Rapist
") among many others (see also the
"Tilgate Park attack"
, the
"Cheltenham assault"
, or the
"Kolkota case"
) make compelling cases in point for forceful resistance.
So, what about self-defence training? Does it really work?
Short answer: Yes.
There are decades of data, referenced by the
National Institute of Justice
, that support the effectiveness of self-defense in stopping rape and sexual assault.
"We know that women's resistance can stop assault, and that self-defence training enhances women's ability to resist"
Jocelyn Hollander
, a professor of sociology who study violence against women,
recently ran an experiment to assess the efficiency of self-defence training for women
.
The results of her study show that
"women who took a ten-week (30hrs) self-defence training were significantly less likely to experience unwanted sexual contact than those who didn't."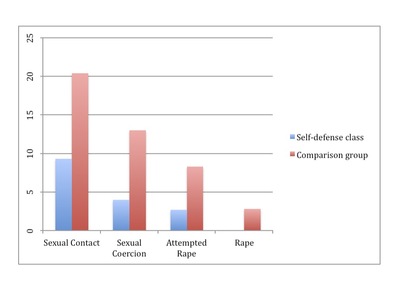 Women who completed a thirty-hour self-defence class (blue) and those who did not (red) reported different types of unwanted sexual contact over a one-year period.
Self-defense is a valuable and
well proven
tool to prevent sexual assault (read our article
Are Women safer when They Learn Self-Defence?
for a more in-depth view).
At
Urban Fit & Fearless
, we teach simple, functional self-defence.
Techniques are based on quick reactions, swift movements and leverage rather than physical strength making them ideal against bigger and stronger opponents. They are also easy to assimilate regardless of age, gender, athletic attributes or body type.
"With the right kind of training women are better able to discern the warning signs of assault. They are clearer about their own desires in an interaction, and more willing to speak and act on their own behalf."
Self-defence training is not only about fighting. It is also about de-escalation, awareness, avoidance, learning how to be more assertive and standing up for yourself.
Our "
Fight Back
" program emphasizes the most likely threats women face and the most adapted solutions.
Classes in East Dulwich SE22 / Peckham Rye SE15